Fig. 1: Mark di Suvero, Mother Peace, 1968–70. Steel painted orange, 41' 8" x 49' 5" x 44' 3".
Pyramidian, 1987/1998. Steel, 56' x 46' x 46'.
Storm King Art Center, Mountainville, NY. Photograph: Jerry L. Thompson.



by Brittany Good


From what appears to be just another expanse of rolling hills and vast meadows in the Hudson Valley region of upstate New York, rises a massive, long-limbed structure. Commanding in its enormity and graceful in its composition, Mark di Suvero's (b. 1933) Pyramidian (Fig. 1) draws in any passerby's attention to reveal a landscape peppered with sculptures. So well-integrated in the setting, The Storm King Art Center seems to spring forth from nowhere, just as intended.




Fig. 2: David Smith, Study in Arcs, 1957. Steel painted pink, 11' x 9' 6-1/2" x 3' 1/2". Storm King Art Center, Mountainville, NY. Photograph: Jerry L. Thompson.



Located one hour north of New York City, Storm King sits atop five-hundred acres of farmland. Founded in 1960 by Ralph E. Ogden and H. Peter Stern, joint owners of the metal fastener manufacturer, Star Expansion Company, Storm King was originally conceived as a museum for the Hudson River School of painters. Ogden deviated from this vision after a visit to an Austrian marble quarry piqued his interest in sculpture and he quickly began building a collection with Stern. After seeing the large-scale works (Fig. 2) of Abstract Expressionist sculptor, David Smith (1906–1965), set in open fields outside of the artist's home, the pair was inspired. Ogden and Stern thereafter placed most of the sculptures they acquired outside, creating a visual dialogue between art and nature.

Storm King's permanent collection is comprised mainly of American and European modern sculpture, ranging in date from the mid-1940s to the present. In 1967, Ogden and Stern purchased thirteen sculptures from David Smith's estate, forming the core of Storm King's collection. A portion of Smith's works reside in the fields while the other, more delicate pieces are housed inside of the museum building (Fig. 3). The museum building was completed in 1935 as a residence for Ogden's friend, the late Vermont Hatch. Designed by architect Maxwell Kimball, the French Normandy-style dwelling was built using granite stones that had been salvaged from Danskammer, the 1834 Edward Armstrong mansion that overlooked the Hudson River in Newburgh, New York, for nearly a century. While many of the period details have been retained, the museum building is also now home to nine exhibition galleries, a museum shop, and various offices.




Fig. 3: Museum building, 1935. Designed by Architect Maxwell Kimball. Storm King Art Center, Mountainville, NY. Photograph: Jerry L. Thompson.



While Ralph Ogden passed away in 1974, Peter Stern continues to serve as Chairman of Storm King and John P. Stern as President. Under the Stern's supervision the collection has continued to grow through purchases, site-specific commissions, donations, and loans. It is imperative that each acquisition be carefully selected, considering not only quality, but how each sculpture will interact with the ever-changing landscape. The permanent collection includes large-scale, free-standing "stabiles" by Alexander Calder (1898–1976), an indoor, small-scale installation by Louise Bourgeois (1911–2010), and a site-specific Richard Serra (b. 1939) sculpture that occupies a ten-acre field (Fig. 4).


This past June Storm King celebrated its fiftieth anniversary with two exhibitions, 5+5: New Perspectives and The View from Here: Storm King at Fifty. As the park closes annually for the winter season, both exhibitions will remain on view when the museum re-opens on April 1st. For the 5+5 exhibition, Storm King asked ten artists to create a new work or select a recent one to loan to the park. Storm King's director and curator, David R. Collens, worked closely with each artist to pick the ideal site for each sculpture. Twelve new works by such artists as Andy Goldsworthy (b. 1956), Ursula von Rydingsvard (b. 1965), and Alice Aycock (b. 1946) have since been incorporated into the park's visual fabric.

The View from Here, which is housed inside of the museum building, explores the development of Storm King's collection as well as the creation of its carefully cultivated landscape. A rotating selection of archival documents and photographs create a narrative explaining the early years of Storm King's collection, the siteing of each work, and the acquisition and development of the massive property. Three of the museum building galleries will be occupied by exhibitions focusing on three specific artists—Claes Oldenburg (b. 1929), Calder, and Smith. The enormous and vital task of preservation will also be explored in The View from Here, using the works of Alexander Liberman (1912–1999) and Louise Bourgeois as case studies. Both exhibitions will be on view through November 13, 2011.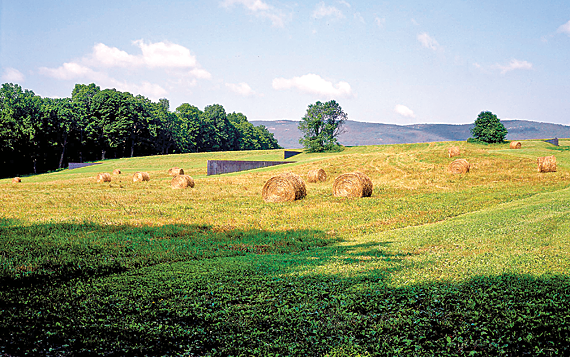 Fig. 4: Richard Serra, Schunnemunk Fork, 1990–91. Weathering steel, (a) 8' x 49' 1" x 2-1/2"; (b) 8' x 35' 1" x 2-1/2"; (c) 8' x 38' 4" x 2-1/2"; (d) 8' x 54' 4" x 2-1/2". Storm King Art Center, Mountainville, NY. Photograph: Jerry L. Thompson.



Storm King Art Center

Old Pleasant Hill Road, Mountainville, NY 10953
845.534.3115
www.stormking.org
Open for the season: April 1, 2011
Wednesday–Sunday: 10AM–5:30PM
Closed: Monday and Tuesday