by Andrew Richmond and Hollie Davis


When the Northwest Territory opened in 1788, settlers, lured by inexpensive, abundant land, flooded west into what would become Ohio. The federal government had divided up the land into a number of sections, with parts intended as payment to Revolutionary War veterans and to the states of Virginia, Massachusetts, New York, and Connecticut that had ceded the land to the U.S. government, while some was sold to speculators; an arrangement that led to an organized, yet complex, pattern of settlement. Many settlers arrived in groups, creating communities with close cultural ties to their eastern origins, and while some settlers fit the frontier stereotypes (backwoods hunters, Indian fighters, and pugnacious drunks), others were educated and affluent. These ambitious men took their families west to build the next phase of the American empire and in their wake came craftsmen and merchants.


Fig. 1: Lighthouse shelf clock, David B. Anderson (born 1794), Marietta, Washington County, ca. 1830. Tin and brass. H. 25, D. 9 in. Collection of the Ohio Historical Society. Photography by Rob Manko, Garth's Auctions.


The earliest Ohio furniture was essentially utilitarian, but sometimes offered hints of elegance, such as the earliest known piece of Ohio furniture. Although at first glance it appears simple and rather primitive, the finely shaped interior shelves suggest they were meant for display and not mere storage. Like this cupboard, much early Ohio furniture reflects a complex mixture of influences. The struggles early Ohioans faced—the limitations of frontier life, adapting their cultural traditions to a new landscape, carving some semblance of refinement and gentility from the wilderness—are writ large across the artifacts they left behind.

Ohio's first organized settlement was Marietta, founded in 1788, at the confluence of the Ohio and Muskingum Rivers, in the southeast corner. Though initially settled by New Englanders, by the turn of the nineteenth century, Marietta, and much of southeastern Ohio, was being populated by Virginians, Marylanders, and Pennsylvanians. Still, traces of a New England influence lingered. A so-called "lighthouse" shelf clock (Fig. 2), made by David Anderson, is modeled after the alarm clock patented in 1818 by Massachusetts clockmaker Simon Willard, a member of the Boston-area family primarily responsible for almost all known lighthouse clocks. Perhaps most unusual, the case on this clock is made of tin-plated sheet iron painted to simulate mahogany, whereas the Massachusetts lighthouse clocks are typically veneered in mahogany. While tin might seem an odd choice, it likely reflects the frontier's imbalance of supply and demand. Although there was a ready market for clocks and other luxury goods in early western settlements, makers did not always have ready access to raw materials. Imported mahogany was advertised in Marietta as early as 1809, but perhaps no suitable mahogany was available at the moment in the late 1820s. Thus, Anderson may have done what frontier settlers often did—he "made do" and had a local tinsmith manufacture a lighthouse-form case. Or Anderson may have simply wanted a less expensive case. Once constructed, the case was painted a reddish-brown to imitate mahogany and then accented with gold.


Fig. 2: Shelf clock, Northeastern Ohio, 1820–1840. Figured maple, walnut, and tulip (poplar), H. 42-1/2, W. 31-1/2, D. 9-1/2 in. Collection of the Western Reserve Historical Society, Cleveland, Ohio. Photography by Rob Manko, Garth's Auctions.


Born in Connecticut in 1794, David Anderson lived for a time in Utica, New York, before migrating further west about 1817 to Marietta, where he opened a clock and silver shop on Ohio Street. In the 1820s, Anderson advertised his services as a clock and watch repairer, and in the 1850 Federal Census, he is listed as a silversmith. Anderson's business was successful enough to pass on in 1854 to his son, David B. Anderson Jr., who continued to operate it until 1900. The clock descended in the Anderson family who donated it to the Ohio Historical Society in 1953.

While New Englanders originally settled Marietta, the Connecticut Western Reserve in Northeast Ohio attracted far more New Englanders than any other region of Ohio, a fact clearly reflected in the area's material culture. Even today, many small northeastern Ohio towns have greens overlooked by clapboard churches. An unusual shelf clock (Fig. 2) represents the pinnacle of vernacular style in early Ohio. Made of highly figured maple and with an elaborate crest and applied turnings, the clock also incorporates two paneled doors and eight drawers, making it a combination shelf clock and spice (or valuables) cabinet. The clock descended in the family of William Wallace of Trumbull County since at least 1869, when he married Abbie Wood, and prior to that, it may have been in her family, also of Trumbull County. Trumbull County had a prolific clock industry, thanks in part to the Lewis brothers, who came west from Connecticut to work as clock makers and retailers. Unfortunately, an attribution to a specific clock or cabinetmaker is difficult as the movement and the tablets were replaced and no similar clocks are known.


Still, settlement was slow in some regions, with the northwest corner of Ohio untamed until the 1830s, due in large part to the inhospitable Great Black Swamp that once covered over 1,000 square miles in the region. German and Swiss immigrants, some of whom had come west from eastern Ohio, while others had migrated directly from Europe, established many of the first successful settlements, including Bluffton in Allen and Hancock Counties.

A wardrobe or schrank (Fig. 3) was made in Bluffton for John Augsburger (born 1835) and Barbara Neuenschwander (born 1834) for their 1858 marriage. Many Bluffton settlers had come from Sonnenberg (now Kidron) in Wayne County, and as a result, the material culture of the two communities is remarkably consistent. This is particularly true of both one- and two-door wardrobes; surviving examples from both communities are similar in overall design and display nearly identical construction techniques.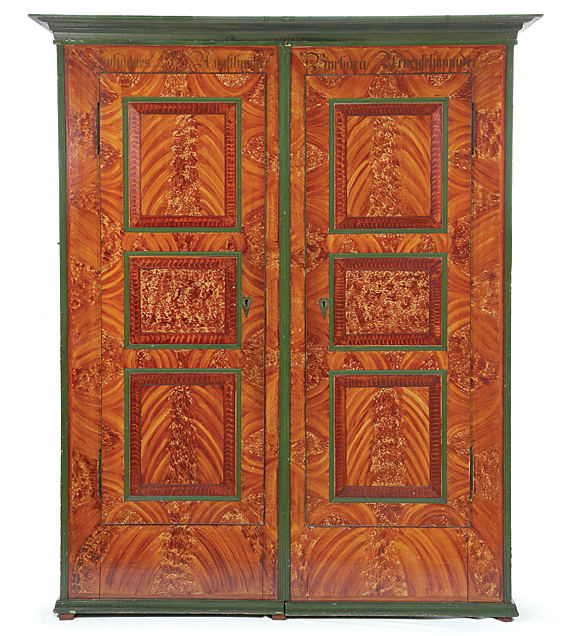 Fig. 3: Wardrobe (or schrank), Bluffton, Allen, and Hancock Counties, dated 1858. Tulip (poplar) and walnut, H. 82, W. 69, D. 19 in. Collection of Mr. and Mrs. Dean Bixel. Photography by Rob Manko, Garth's Auctions.


Distinctive features of many Bluffton and Sonnenberg wardrobes include a small shelf above the clothing pegs and a secret drawer only accessible by removing the interior drawer entirely. Additionally, faux mahogany graining was a popular paint treatment in Bluffton, Sonnenberg, and many other Swiss and German communities.

While Northwest Ohio was slow to settle, Southwest Ohio became the most diverse and prosperous section of early Ohio, due in large part to the ease of navigating the Ohio River and its numerous tributaries. This region attracted more carpenters and cabinetmakers than any other trade, and among them was Christian Shively Jr., who was born in Maryland and lived for a time in Huntingdon, Pennsylvania. In 1805, Shively and his family, along with his parents, his wife's parents, and his brothers' and sisters' families, headed west, purchasing land along Wolf Creek, near Dayton.

The monumental cupboards made by Shively (Fig. 4) are among the most iconic pieces of Ohio furniture, with fewer than a dozen extant cupboards known. All are remarkably similar in size and overall design, sharing a number of distinguishing construction techniques, including the characteristic "drain grooves," allegedly for allowing water to drain from freshly washed plates, running along the top of the lower case.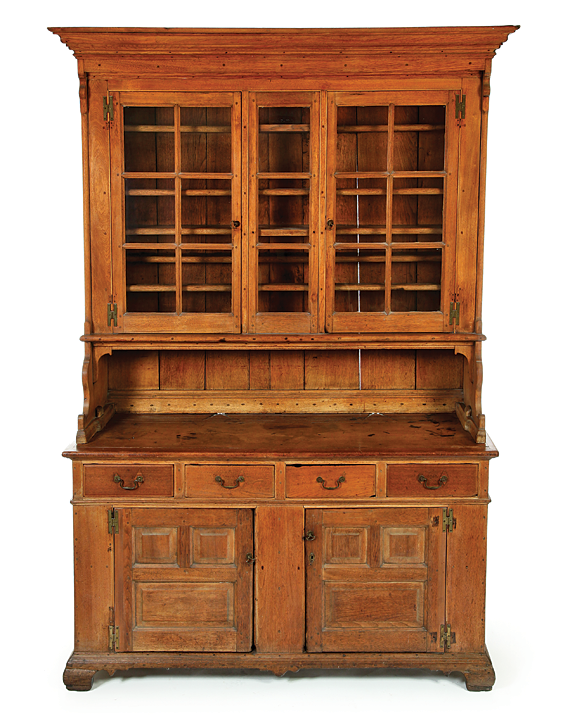 Fig. 4: Cupboard, Christian Shively Jr. (1770–1820), Madison Township, Montgomery County, 1810-1820. Walnut., H. 94-3/4, W. 67, D. 21 in. Collection of Susan and Jonathan Airey. Photography by Rob Manko, Garth's Auctions.


Tradition has long held that Shively made only a small number of these cupboards and nothing else. While the number of these massive cupboards made by Shively was probably limited, it is almost certain that he made other furniture. His 1836 probate inventory includes his "carrepenter tools" (also mentioned in his 1835 will), as well as lumber and hardware, suggesting he was still engaged in the cabinetmaking trade.

The story of Ohio decorative arts is told through a selection of furniture, textiles, glass, silver, and ceramics in Equal in Goodness: Ohio Decorative Arts 1788–1860, on view at the Decorative Arts Center of Ohio in Lancaster, Ohio, through June 5, 2011. For information call 740.681.1423 or visit www.decartsohio.org.


---

Andrew Richmond
is a vice president of Garth's Auctions in Delaware, Ohio, and guest curator of
Equal in Goodness: Ohio Decorative Arts, 1788–1860.
Hollie Davis
is senior editor and marketing director at
p4A.com
(Prices 4 Antiques), Dayton, Ohio.