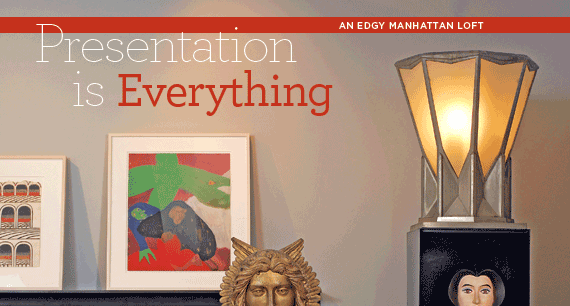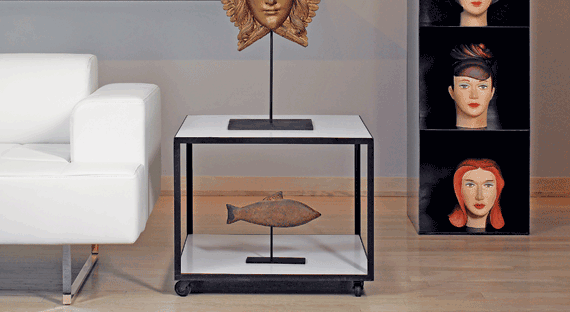 A circa 1960 work on paper by Bob Thompson gets equal play with a late nineteenth-century carved and gilded head of Mercury from a Baltimore courthouse and a 1920s nickel-plated, bronze, and glass train station light from Buffalo, New York. The vignette is rounded out by a trio of display heads for a 1950s beauty parlor and, on the lower shelf of the side table, a cast-iron fishnet weight from the late nineteenth or early twentieth century.


text by Nancy A. Ruhling; photograps by Ellen McDermott




The circa 1925 tramp art chest, which was found in the South, is made from dynamite crates stamped "Peerless Union, Explosives Dangerous! Pennsylvania." Above it, on a pedestal, a circa 1920–1930 child's clothing form.


Frank Maresca opens the door of his Manhattan loft and sticks his head into the front entrance in greeting. Behind him is the first glimpse of his collection — a painting for a 1931 poster by French artist Paul Colin that makes visitors do a double take when they look beyond their host. The image — hands in the act of putting on a pair of round black spectacles — looks as though it were modeled on Maresca and his signature eyeglasses.

Provocative and personal, it sums up Maresca's feelings not only about art but also about the art of collecting. "Art's all about having a strong reaction," he says. "I don't care if you have a negative or positive reaction; you can love it or you can hate it. I want you to have some kind of reaction because that's the beginning of the discussion."

For dealer/collector Maresca, the discussion ranges far and wide and as far out of the ordinary white/grey box as he can get it to go. "I don't collect anything specific," he says. "I collect and deal in two-dimensional and three-dimensional objects that have the ability to transport the viewer. The value of the piece isn't important; only the quality and integrity of the object matter."

From the circa-1979 ruby-red throne, by self-taught artist Leroy Person, in the dining room, to the shuttle-shaped weather vane in the living room that once graced the roof of a nineteenth-century New England weaving mill, Maresca's collection does indeed defy categorization. "Whether it's folk, self-taught/outsider art, found objects, modern, contemporary, or ancient, each object should be able to hold its own against anything in any of the major museums of the world," he says.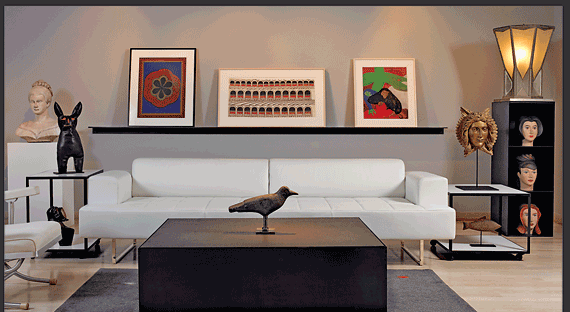 CLOCKWISE FROM TOP:
A contemporary white leather sofa from Poltrona Frau and a pair of Warren McArthur folding chairs from the early 1950s set the stage for the living room art: Eddie Arning's 1970s abstract concentric pattern drawing, left, Martin Ramirez's 1960s "tunnels" piece, and Bob Thompson's circa 1960 abstract. A cast-iron roof-top crow, circa 1910–1920, perches on the coffee table as if searching for glittering objects.

An original painting for an optical shop by poster artist Paul Colin greets visitors upon entering the apartment. "People tell me it looks like me," the bespectacled Maresca says.

The life-size late nineteenth-century terra-cotta angel isn't damaged: it was truncated by design because it once topped a Philadelphia building. It dominates the other living room figures, which include a late nineteenth-century marble bust of a woman and a 1950s black cat made from an inner tube (see image above).




A pair of wooden Herman Bridgers figures that were used as signposts by the African-American artist/preacher, float in front of a bank of circa 1920 enamel-on-steel kitchen cabinets and a late nineteenth-century–early twentieth-century copper weather vane shaped like a shuttle from a New England weaving mill.


Maresca, who with Roger Ricco owns the Chelsea-based gallery that bears their surnames, began collecting more than three decades ago when he was a fashion/beauty photographer. Although he started with late eighteenth-century and early nineteenth-century furniture, he took a more modern approach when he started selecting his artwork. "There was nothing on my walls," he says, "and the traditional things — samplers, Queen Anne brass candlesticks, and portraits of someone's dead relative — didn't appeal to me."

Then in 1976, he attended Folk Sculpture U.S.A., a joint show by the Brooklyn Museum and the Los Angeles County Museum of Art. "It changed my life — and my collection," he says. "This material wasn't even on my radar."

That inspiration is felt throughout the 2,200-square-foot loft that he has subdivided to create the best frames for his most spectacular pieces. In the guest bath, for instance, the walls display a dozen framed black-and-white photos from Weegee's 1952 "distortion" series, counterbalanced by an angular abstract pen-and-ink drawing by Man Ray. The link? Both were photographers.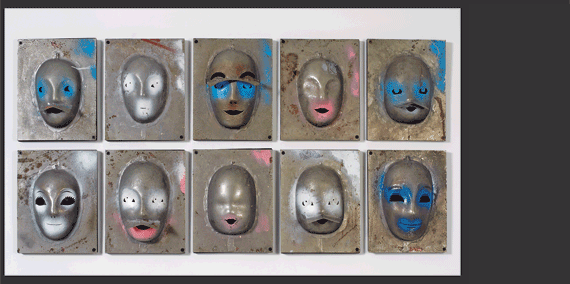 CLOCKWISE FROM TOP:
A setting in the living room offers a witty and prescient comment on life and death. William L. Hawkins' vivid painting of man–eaters, circa 1985, looks down on an eccentric California Arts and Crafts child's high chair, a late nineteenth-century/early twentieth-century industrial counterweight in the form of a baby, a 1ate nineteenth-century articulated dancing figure, and an unused, circa 1970s Herman Bridgers cast-concrete headstone. The African-American painted tramp art chest, made of wood and painted with aluminum radiator paint, suggests an African-American strip quilt.

Detail of the African-American tramp art chest, seen to the left.

Maresca's collection draws upon human faces; in this case, 1950s industrial molds of Halloween masks.


On the white marble vanity, there's an eight-by-ten Lucite box filled with blinking dolls' eyes that bat their long lashes at guests as they look at their reflections in the mirror. The 1950s salesman's sample, from the Margon Corp., "has no real monetary value," Maresca says. "As I dealer, I'd have a hard time selling it for $500, but it's one of my favorites, and if there were a fire, I can tell you in all honesty that it might be thefirst thing I would save."

The master suite is a self-sufficient series of sculptural spaces that revolve around art and life. In the office, where a sleek white Apple computer sits atop a glass desk, a dozen 1940s plastic dolls in their factory box share bookcase space with a hand-carved wooden whimsy. A burl ash cage, the size of a desk calendar, encircles nine perfectly round balls. It was made from a single block of wood and took the artist, A. D. Eller, four thousand hours to complete, a feat that earned him a spot in Ripley's Believe It or Not! "It's a testament that anything's possible," Maresca says.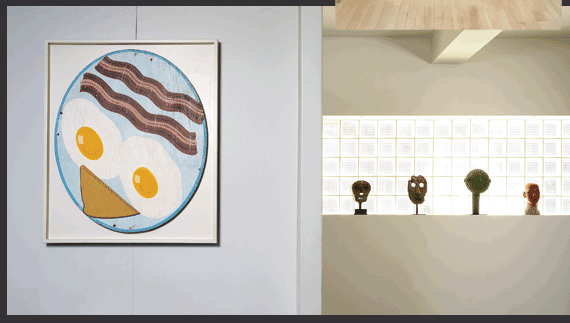 CLOCKWISE FROM TOP:
Maresca favors informal entertaining, so the circa 1939–1941 Warren McArthur table, one of only two known to exist, doesn't get much use; instead, the William L. Hawkins' circa-1980s painting that Maresca calls Monument Valley serves as the room's centerpiece. The metallic look is carried through by the early 1950s Best Form chairs, the circa 1925-1930 wire wine rack, and the pair of circa 1920–1930 cast-aluminum hat forms. The grids of the colorful game board, from the late nineteenth or early twentieth century, echo the geometry of the wine rack and the painting.

The color scheme of William L. Hawkins' circa-1980s painting of a fight scene complements the Leroy Person's circa 1979 blood-red throne, which is not intended to be functional; its art lies in the surprising combination of Hepplewhite-style chair
pieces and a hybrid frame.

The 1950s breakfast sign from a Connecticut diner, above the bed's headboard, serves as a welcome wake-up call for Maresca.


Of the 1930s hand-powered aluminum Allen vacuum cleaner that's mounted and
displayed in a bedroom window, says Maresca, "It's ridiculous, but it's perfect." Of the bellows-like apparatus he adds, "The dealer wasn't sure he wanted to sell it because he used it to vacuum his booth. But I gave him $200 — enough twenty years ago to buy a new contemporary vacuum."

In the sleeping section, the bed faces the flat-screen TV and a wall mounted with a half dozen heads, including an Independent Order of Odd Fellows1 head of Goliath splashed with red paint to represent blood from the stone wedged in his forehead. Above the headboard, there's a 1950s diner painting of bacon and eggs that smiles, sunnyside-up, at Maresca every morning. "Nothing in here is random," he says. "Everything is here for a reason. I have arranged things to create a sense of mystery and theater; I don't want everything to be revealed at once."
As far as the heads at his feet, "It's fun for me to sit in bed and watch all of them like an audience," he says. "It's strange, it's intimate, but they're not inanimate because they have a presence. They're not just wood and paint and fiber; whether you reference Pinocchio or Tim Burton, they're friends that I enjoy, and they watch me too."



CLOCKWISE FROM TOP:
Maresca changes his art with his mood. Right now, on display are, clockwise from top left: Sam Doyle's circa 1978–1981 enamel-on-found-board Onk Sam; Laura Craig McNellis' circa 1980s tempera on paper; Dwight Makintosh's circa 1980s graphite on paper; and David Butler's circa 1968–1970 oil-enamel-on-tin Man with Three Legs.

Three undated works by James Castle are framed in a dining room alcove. When Maresca renovated his loft, he included spaces like this for art.

The life-size 1930s–1940s paint-on-Masonite figure is from a Detroit tattoo parlor and was made as a point-of-purchase display to show potential customers the various designs available. Among the horses, eagles, cobras, and cats are dainty butterflies whose outspread wings are emblazoned with sinister skulls and crossbones.

Maresca's bed faces a wall of heads. The cast of characters are, from left: a late nineteenth-century carnival head of a gory Goliath, complete with painted blood; an early twentieth-century carnival knock-down head; a late nineteenth-century portrait head of a woman; a circa nineteenth–early twentieth-century carnival knock-down head with moveable eyes; and an unfinished head made from redwood by Calvin Black in the early 1960s.


Maresca also is watched over by a trio of nearly life-size portraits. The large lady in the bright orange bathing suit once was part of a 1920s circus banner; the 1954 painting of roller-skate champ Peggy Wallace, signed prominently by one Captain Rudy Vigneault, was copied from a flier; and a 1940s Eve, with apple and snake, was found in an attic. "I like the fact that all of these were real people," Maresca says. "Eve, for instance, was made to be viewed privately; it was not made to be displayed in a home."

To keep things interesting, Maresca rotates pieces of his collection at least once a year. To make this easy, he built a large storage cabinet that acts as a wall that separates the foyer and living room. "Presentation is everything," he says. "When I rotate, it's like I'm seeing something for the first time. I've already paid for it, so it's like I got it for free."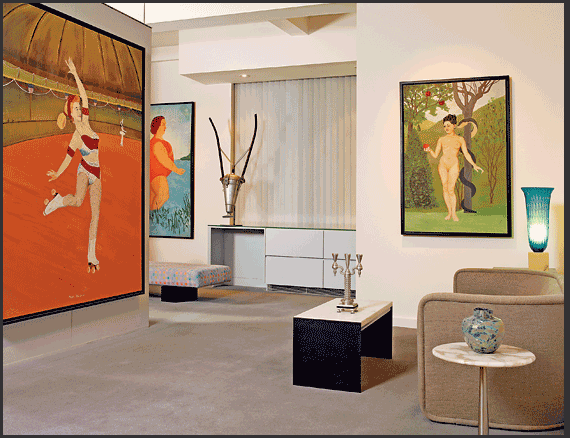 The bedroom's carnival theme continues in the adjacent sitting room, which is dominated by life-size portraits of 1950s roller-skating champ Peggy Wallace; a circa-1920s bathing-suited carnival fat lady; and an anonymous 1940s painting of Eve. "Every time I sit here, I see something different," Maresca says.


Recently, for instance, he added ten metal face sculptures —1950s molds from a toy factory that made Halloween products — to the living room. They are right at home with his 1985–1986 William Hawkins paintings, the four foot-high truncated torso of a circa-1885 terra-cotta angel, and the circa-1880 gilded and carved face of the mythical messenger Mercury made for a Baltimore courthouse to remind everyone of the speed of justice.

It isn't the age of the piece so much as its history that speaks to Maresca, and the human form says the most to him. "Art is a Rorschach test," Maresca says. "You see what you want to see, you feel what you want to feel. Each person sees different things that change with the mood and time."



CLOCKWISE FROM LEFT:
In the master suite sitting room William L. Hawkins' circa 1980s scales of justice painting presides over a circa 1950s Heywood-Wakefield chest, which is topped by a circa-1920–1930 swimming instruction figure originally used to demonstrate the Martin crawl.

A circa 1930–1940 leather-jointed mannequin, which Maresca calls "one of the greatest of all time," stands next to a circa 1893 oil on canvas of a nude by J. V. Fuentes, Boston. The complementary figures on the wall range from Native American to articulated dancing figures.

The early twentieth-century wooden whimsy by A. D. Eller of Liberty, New York, which Maresca displays over his desk, is carved from one piece of solid burl ash. "It's a really hard wood, and he used a knife," Maresca says of the four-thousand-hour project. "Landing on the moon somehow seems an easier task."


"There's a very real thread or cable that runs through everything in my collection," he says. "It all hangs together, and collectively it tells a different story to each person, but it tells who I am. The picture of who I am is the sum of what I've collected." What he ultimately collects, though, are lively conversations. "I enjoy having friends over in the evening," he says. "We hang out, have some wine and talk for hours."



CLOCKWISE FROM UPPER LEFT:
A dozen 1952 black-and-white photos from the "distortion" series by Arthur Fellig, aka Weegee, give a fun-house, carnival feel to the white and grey toned guest bath.

A new iMac, a dozen mint in-the-box dolls encased in Lucite, a wooden whimsy, and a collection of small objects are the only ornaments in Maresca's zhome office.

In the guest bath, samples of blinking dolls' eyes give the once-over to guests as they wash up. Made by the Margon Corporation of Rahway, New Jersey, in the 1950s, it is one of Maresca's favorites.


---




1. The altruistic organization derived from the Oddfellows' charitable service that originated in England in the 1700s.